Wichita Festivals, Inc. officials today announced details of Autumn & Art at Bradley Fair 2023, a fine-art show and sale celebrating its fourteenth anniversary and revealed the festival's Featured Artist.
Autumn & Art, which in 2022 drew over 30,000 attendees, takes place Sept. 15-17 on Bradley Fair Parkway. This year's event will feature 85 artists from around the nation including many Kansas artists.
"We could not be prouder of what Autumn & Art has grown to become over the past decade," said Nancy Duling, president and CEO of Wichita Festivals. "We are appreciative of all the artists, volunteers and contributors coming together in celebration of the vibrant, creative spirit that makes Wichita such a special place."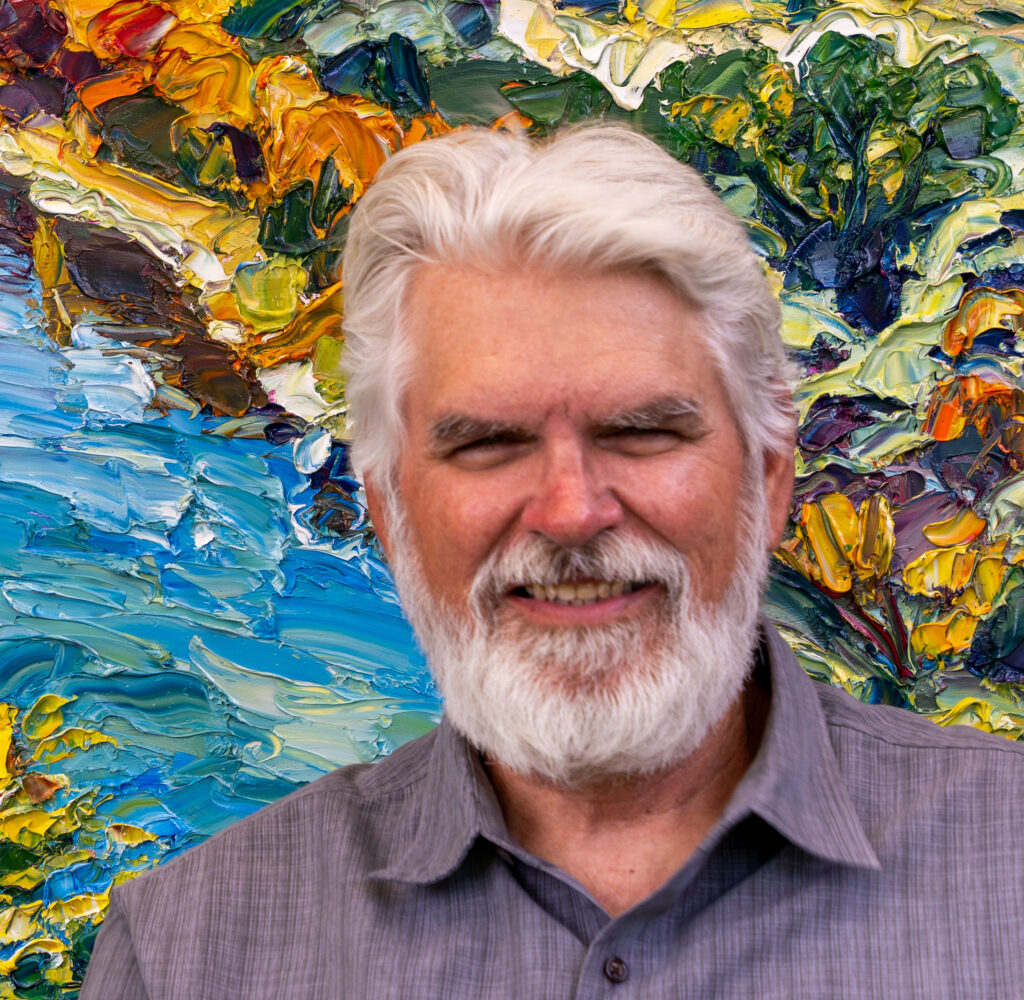 Featured Artist
Painter Stephen Smith of Tulsa, Oklahoma, is the Evergy Featured Artist for Autumn & Art 2023. Smith considers himself to be a self-taught artist through years of painting and growing into his current style. Bold colors and textured impasto are featured in each of his paintings. The paintings can be quite chaotic up close but by stepping back the viewers' eyes blend the chaos into the image of the subject that was intended. "I find the participation of the viewer magical," said Smith. A poster of Smith's Featured Artwork, "Autumn Day on the Rio Grande," will be available for purchase at The Frame Shop and at the festival.
Art Fair Festivities
In addition to browsing and shopping for art, attendees can purchase soft drinks, wine, beer, and snacks to enjoy as they stroll the parkway. Activities will include The Art of Bloody Marys (build-your-own bloody marys) from 10 a.m. to 1 p.m. Saturday and Sunday from HomeGrown; the parkway Chill & Charge Lounge with a charging station; and over-sized lawn games, including giant Jenga® and Connect Four®.
Tickets
Admission to Autumn & Art at Bradley Fair is free for the public, thanks to festival sponsors and the patrons who support the event by purchasing a $150 Patron Pass. The Patron Pass includes an exclusive opening-night Patron Party, on the intimate tree-lined Wilson Estates Parkway, with gourmet food from Bella Luna Café, Newport Grill, and Il Vicino; specialty wine and spirits; a gourmet coffee bar sponsored by PrairieFire Coffee, wine and whiskey pulls; patron gifts and live music by Sterling Gray. Patrons also enjoy reserved parking and complimentary wine, beer, and soft drinks throughout the weekend. Autumn & Art Patron Passes are available by calling Wichita Festivals at (316) 267-2817; or online at AutumnandArt.com.
Fun For All Ages
Art-themed fun for all ages will be available on Saturday and Sunday, including a variety of free, hands-on art activities at Artie's Creation Station, coordinated by Mark Arts and supported by Cox. Artie's Masterpiece Games give youngsters a chance to have fun while learning about classic paintings. Entertainment—live music and artist demonstrations—will be presented throughout the weekend.
Art Fair Schedule
Autumn & Art will be open 6 to 9 p.m. Friday, Sept. 15; 10 a.m. to 7 p.m., Saturday, Sept. 16; and 10 a.m. to 4 p.m., Sunday, Sept. 17 on Bradley Fair Parkway, just east of Bradley Fair, which is located at Rock Road and 21st Street North.
Autumn & Art Sponsors
Sponsors this year include Bennington State Bank, Bradley Fair, ComfortCare Homes, Inc., Cox, Docuplex, Evergy, ICM, IMA, J.P. Weigand and Sons, Kansas Strong, Legends Senior Living, PEC, Star Lumber, The Frame Shop, Tree Trop Nursery & Landscape, and Walser Auto Group. Visit Wichita is the festival's Official Marketing Partner.
"Each September, we dress up Bradley Fair Parkway and throw the classiest, most artistic festival in town." said Jen Remsberg, director of marketing and communications at Wichita Festivals. "Thanks to generous patrons, sponsors, and volunteers, we can infuse this world-class art show with great entertainment and grant free admission to the public. We invite returning and new Autumn & Art Patrons to get their tickets, so they can enjoy an incredible party and weekend-long VIP treatment, while helping provide this unique cultural gift to our community."
Exhibits & Jurors
At Autumn & Art, original works will be available in fourteen artistic media, including jewelry, painting, glass, fiber, ceramics, photography and more. Exhibiting artists compete for cash awards totaling $7,000.
Artists were invited to sell their work at the show after evaluation by a panel of expert jurors: Rollin Karg, artist, and owner of Karg Art Glass; Karen Karg, metalsmith and glass artist; and Christopher Gulick, sculptor.
Autumn & Art Partners
Also partnering with Wichita Festivals, Inc. to produce the event are Mark Arts, Bella Luna Café, Newport Grill, Il Vicino, PrairieFire Coffee Roasters, Central Power Systems & Services, SiteBox Storage, Anchor Rentals ICT, Jacob Liquor Exchange, Hilton Garden Inn, and HomeGrown. Media partners for the event are iHeart Radio and KAKE.
Wichita Festivals, Inc. is a not-for-profit organization with the purpose of creating diverse community celebrations within the Wichita community. The primary events produced by Wichita Festivals, Inc. are Autumn & Art at Bradley Fair (September 15-17, 2023), and Riverfest (May 31- June 8, 2024).